Opinion: Massive Redevelopment of Navy Property Threatens San Diego's Future – California News Times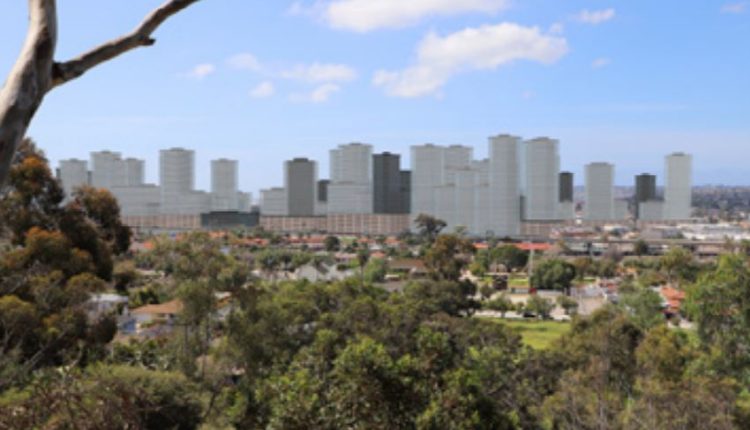 Rendering the view from the Presidio 30 years after the site was developed.Navy courtesy
In 1984, I received a job from a US law firm in both Los Angeles and San Diego. His position in Los Angeles may have undoubtedly given me a greater opportunity to handle notable cases, but my wife and I, among other things, were in tremendous and constant traffic. Did not enjoy the prospect of raising a family in a troubled city Pollution.
LA was a city that paved a major river (yes, there is a river that runs through Los Angeles, Virginia) and turned it into a huge concrete waterway. Obviously, LA was neither a land of milk and honey, nor a golden state paradise envisioned by people born and raised on the East Coast.
At the same time, San Diego has actually fulfilled its promise of being "America's best city." In addition to having the potential for the best weather in the country, the city has minimal traffic, little air pollution, vast undeveloped areas, numerous parks, and a variety of available to everyone. There was a lot of outdoor activities.
The decision to raise our family in San Diego was easy. Things I have never regretted.
Unfortunately, over the years, our politicians have too often scratched or twisted the labels of America's best cities. It's now a slogan rather than a promise. The beautiful canyons and cliffs of the Mission, Carmel and Sorrento valleys (only a few examples) have been transformed into malls, parking lots and concrete roads.
As we approach the Los Angeles-style congestion level, our highways are clogged at all major intersections. Developers are allowed to build the necessary housing development without incorporating sufficient green space for hiking, biking, camping and other outdoor activities.
Currently unknown to most civilians, the city of San Diego and the Navy Large redevelopment project It will take a big step towards making San Diego another Los Angeles. The project modernizes the old NAVWAR site (a collection of buildings along the Pacific Highway just east of the Old Town) and the Navy's Old Town campus (an adjacent area that runs along Midway Drive, including parking and storage). I am aiming for.
But what's being sold as progress is just a free gift to developers, further exacerbating the quality of life we ​​all cherish in this still beautiful city of life, work and vacation. increase.
Proposals promoted by the Navy and the city (although more than 90% of residents polled on this topic disagree) will replace existing NAVWAR buildings with 106 new buildings, including 65 skyscrapers. increase. 350 feet high (30 floors and above), it covers millions of square feet of commercial, hotel, and residential space, but to address the shortage of affordable housing and the problem of the homeless population. I haven't done anything.
Even under the Navy's most rosy forecasts, all of its preferred alternatives took 30 years to complete, with an additional 70,000 automated trips per day, on Interstate 8 and 5. Traffic slowed significantly, downtown, airports, mission bays, and our beaches. The Navy estimates that the I-5 Northbound On Ramp on Old Town Avenue will generate more than 500 stunning lines during rush hours, with a wait time of more than an hour and a half.
Mayor Todd Gloria doesn't care if he hasn't traveled on these already crowded roads lately, or perhaps the developers continue to transform our city into another Los Angeles.
The Navy's rough environmental impact statement could reduce air quality in the area (ie increase air pollution), and the visual impact of the project would be "19 historic buildings within half a mile." He is willing to say that it is "serious and inevitable" that affects the environment. Translation: This project completely changes some of the characteristics of our tourism and cultural gems and makes them look unattractive.
The staff of Congressman Scott Peterson is said to have been surprised to see a photo of the proposed project in his district, but strangely, Congressman has not challenged the Navy or the city. Similarly, we only hear "crickets" from Congressman Sarah Jacobs (whose district is within walking distance of the project).
Among other negative effects, proposals endorsed by both the city and the Navy include a 40-acre green square, a picnic area, and a monument to commemorate both former Kumeyaay residents and early European settlers in California. Permanently damage the features of the adjacent Presidio Park.
Sadly, this precious glimpse of San Diego's colonial life suffers from increased traffic and noise, so its impact on the historic old town will be even more dire. .. The proposed skyscraper rises above the park, casting a lasting shadow on its tranquility and beauty.
The city and the Navy should not be allowed to build a project here, more than they should be allowed to build a project next to Williamsburg, Virginia or Salem, Massachusetts.
The only real advantage the city and navy claim over this obscene project is the new high-speed transportation hub, which they callSan Diego Grand Central Station.. But this new $ 4 billion hub is less than a mile from the existing Old Town transportation hub and three miles from downtown.
Also, there are no rail connections to the airport, Pacific Beach, Ocean Beach, or La Jolla yet. It's more like "unnecessary auxiliary political pork" than Grand Central Station.
Fortunately, the Navy offered an alternative that simply refurbished the old NAVWAR building. The Navy and the city appear to be out of control of this low-cost alternative, which causes the city to develop the rest of the area as part of the "Bay to Bay River Park." can do.
This solution provides San Diegan with a generational opportunity to reserve public space for people without having to buy land from private developers (the Navy can move it to the city). increase). You may be able to break the parking lot and build a paradise once.
Phillip Halpern has been a US Federal Attorney's Assistant for 36 years at the Federal Attorney's Office in San Diego.
View comments
Opinion: Massive Redevelopment of Navy Property Threatens San Diego's Future Source link Opinion: Massive Redevelopment of Navy Property Threatens San Diego's Future